3D-PRINT EVENT
We invite you to a night filled with fun, inspiration and good advices when it comes to 3D print in general.
You will furthermore have the opportinuty to print the 3D models you made at our first event.
The event takes place wednesday the 2nd of may at 16.15 in Devlab.
For further information:
https://www.facebook.com/events/1999801623364578/
-26/04/18
3D-SCANNING EVENT
Devlab has acquired some new equitment, which we would like to introduce to all of you.
Come make a 3D model of your own head!
The event takes place monday the 23rd of april at 16.15 in VR Lab.
For further information:
https://www.facebook.com/events/1994341624216415/
We appoligize for the late announcment, but hope to see as many of you as possible.
-21/04/18
VR UPDATE
The problems with the VR-equipment has been solved thanks to one of our dear members; Sonny.
The solution has to be made for every single user, who logs in to the computer.
After accessing the computer you will have to follow the three steps below, and then you will be good to go!
1) Make sure Steam is closed
2) Delete the following file:     
"C:\Users\$Username$\AppData\Local\openvr\openvrpaths.vrpath"
3) Start Steam
-18/04/18
1st DevLab Competition
Bring your best project to compete with other students.
Everyone is invited! The audience will be able to vote and participate. Come and join us: https://www.facebook.com/events/358111027923888/
-15/03/17
New 3D printers – update
New 3D printers are ready to use!
Be creative and get some inspiration with these two objects.
Happy printings!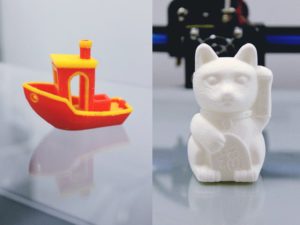 -27/02/17
New 3D printers
Two new 3D printers have arrived to DevLab! We received a Afinibot A31 and a Raise 3D N2 Plus. Check under "Machines" to know more about them. They will be ready to use in a few days and you will be updated.
– 23/02/17
Project VR Workspace – Update 1
As some may have seen, funding has been secured. We have received the HTC Vive and the desktop has been ordered. We expect that the station will be up and running soon.
For more information about access, check our webpage later.
– 14/09/16
Laser Cutter Status – Update 1
The laser cutter has been installed and is available for use. The machine has been moved to FlexLab. Remember that you must have completed the course before you use it!
– 10/09/16
Project VR Workspace
A lot of our members has expressed interest in VR technology. With the release of the Oculus Rift and HTC Vive using and developing this technology has become incredibly exciting. Therefore we have decided to establish a workstation capable of utilizing these tools. Hopefully this will help advance our dream of establishing digital prototyping capabilities. We have started to look for sponsors and funds to make this project a reality. This process can take a long time, so please have patience.
We'll update you guys when new information is available.
Laser Cutter Status
As most of you know we have not been able to use our laser cutter due to insufficient ventilation. We've finally been granted permission to install a new ventilation system. This should hopefully be installed and running sometime during the summer break.
More information will follow.